Bioimaging Day 2021
On behalf of the organizers, we would like to thank all speakers who contributed to the success of this event, the doctoral researchers who helped with moderation, and to the interested and diverse audience!

Bioimaging Day 2021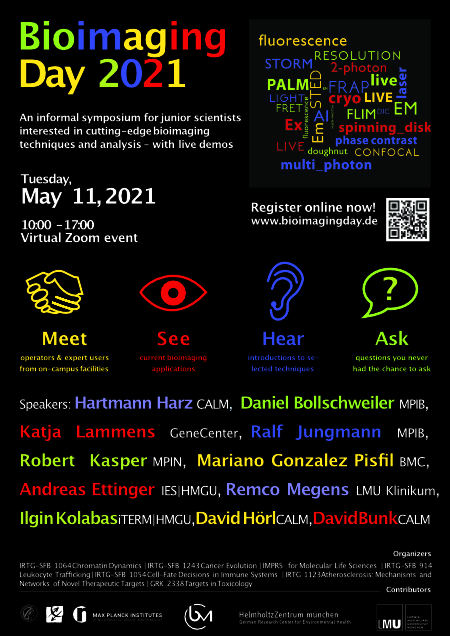 Date: Tuesday, May 11, 2021
Time: 09:00 - approx. 17:30 (European time)
Venue: Virtual Zoom meeting with remote on-site demonstrations

Speakers from the Life Science Campus and greater Munich area will introduce their areas of expertise in bioimaging.
Open to the scientific community, students, doctoral candidates and junior scientists who are interested in cutting-edge bioimaging techniques and analysis, covering molecular up to multicellular resolutions. All are welcome!
Speakers:

Hartmann Harz (CALM/Human Biology and Bioimaging) Welcome and Introduction
Daniel Bollschweiler (MPI B) Cryo EM
Katja Lammens (Gene Center) Cryo EM
Robert Kasper (MPIN) STED (PALM/STORM)
Mariano Gonzalez Pisfil (BMC) FLIM
Andreas Ettinger (IES/HMGU) Live Imaging, FRAP
Remco Megens (LMU Klinikum) 2-Photon Laser Scanning
Ilgin Kolabas (ISD/HMGU) Light Sheet, Clearing Tissues
David Hörl (CALM/Human Biology and Bioimaging) Artificial intelligence and Machine Learning
David Bunk (CALM/Human Biology and Bioimaging) Machine Learning and Image Analysis

Co-organized by the graduate programs: SFB-IRTG 1064 Chromatin Dynamics, IMPRS-LS Max Planck Research School for Life Sciences, SFB-IRTG 1243 Cancer Evolution, SFB-IRTG 914 Leukocyte Trafficking, SFB-IRTG 1054 Cell-Fate Decisions in Immune Systems, SFB-IRTG 1123 Atherosclerosis - Mechanisms and Networks of Novel Therapeutic Targets, GRK 2338 Targets in Toxicology
Download the poster (PDF, 458 KB)
Based on Zoom attendance lists, general confirmations of participation for those who attended at least 70% of the event were sent via email. (Confirmation emails were sent on May 25, 2021.) If you attended at least 70% of the talks, and did not receive a confirmation email, contact irtg1243@bio.lmu.de.

Confirmation for participation in individual talks will not be issued.
JSON-Code nicht valide
Fehler beim Laden der benutzerdefinierten Felder