Chromatin Dynamics 2019 – 5th International Munich Symposium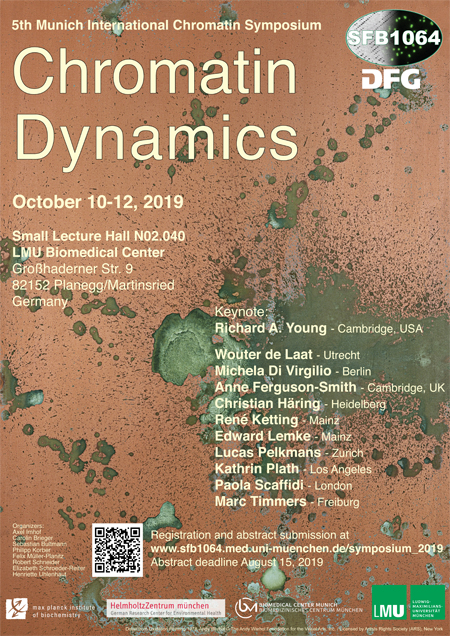 The symposium includes a keynote lecture, invited speaker talks, a poster session and short talks selected from abstract submissions.
KEYNOTE LECTURER: RICHARD A. YOUNG (Cambridge, USA)
Speakers: Wouter de Laat (Utrecht), Michela Di Virgilio (Berlin), Anne Ferguson-Smith (Cambridge, UK), Christian Häring (Heidelberg), René Ketting (Mainz), Edward Lemke (Mainz), Lucas Pelkmans (Zurich), Kathrin Plath (Los Angeles), Paola Scaffidi (London), Marc Timmers (Freiburg)
Join us for an interesting meeting!
To contribute to the Sustainable Development Goals, this symposium aims to practice responsible consumption, using recycled products and reducing disposables whenever possible, inlcuding implementing a paper-free abstract booklet.