Biotech Career Opportunities in Munich
Career orientation event at the BMC for early career scientists
05.10.2022
Join us for this career orientation event, bringing next-generation doctoral, postdoctoral and medical researchers together with biotech companies in the greater Munich area.
Date: Wednesday, October 5, 2022
Morning Session: 10:00 - 12:00
Afternoon Session: 14:00 - 16:00
Different companies will present at each session; attendance of both sessions is possible and encouraged.
Venue: BMC – Small Lecture Hall (N02.040) for pitches, BMC Main Foyer for "stations" (Q&A, networking & snacks)
LMU Biomedical Center, Großhaderner Str. 9, 82152 Planegg-Martinsried
Language: English
Our target audience: doctoral, postdoctoral and medical researchers, clinician scientists, science and medical students interested in the biotech sector.
Our idea is to provide early career scientists with an overview of biotech companies, as inspiration for entrepreneurship goals and as potential employees, while exposing biotech companies – potential employers – to new (international) talent in the field. A win-win situation!
Our focus is on information and interaction: companies introduce themselves with short pitches, after which there will be a get-together with "stations" to provide opportunity for questions and networking.
Participating companies will be announced soon.
www.bio-m.org/biotech-career-day-2022
FYI – see also BioM Job Offers: The portal for life science specialists and managers in Bavaria - specific, regional and well-known.
Morning session:
BioM Biotech Cluster Development GmbH
Roche Diagnostics GmbH
CRELUX GmbH - a WuXi AppTec company
MorphoSys AG
Dynamic Biosensors GmbH
FGK Clinical Research GmbH
siTOOLs Biotech GmbH
MIKROGEN GmbH
Eisbach Bio GmbH
Proteros biostructures GmbH
Afternoon session:
Implen GmbH
Phio Scientific GmbH
Bavarian Nordic GmbH
TRIGA-S e.K. Scientific Solutions
Evotec (München) GmbH
tilibit nanosystems GmbH
SynapCon GmbH
LEUKOCARE AG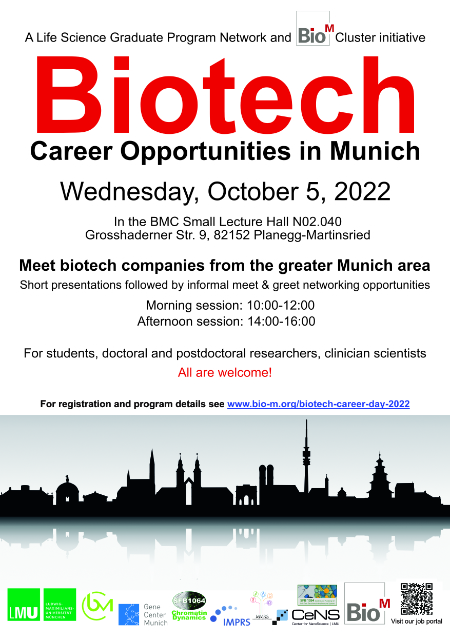 Downloads