CRC 1064 International Symposium POSTER DESIGN COMPETITION
Submit your idea for artwork by September 30, 2023!
30.09.2023
Save-the-date for our CRC International Symposium Oct 9-11, 2024!
There is still quite some time to go, but already invitations and organization are in the works. Our next step for this year is to create a poster with interesting visuals and start advertising in the Fall.
For the CRC 1064 International Symposia posters in the past we have used images from outside of the scientific realm that allude somehow to our research. We have borrowed from renaissance through modern art periods, using "beads-on-a-string", helical winding and abstract imagery to allude to chromatin structure, and have come up with, we think, some very memorable posters. Juxtaposing ideas between Science and Art, balancing content, aesthetics and a slight factor of surprise, has given us great pleasure, and we think increases the impact and visibility of our symposia in the international community.
This year we would like to take a slightly different approach:
We invite all SFB/IRTG members and associates to participate in a
POSTER DESIGN COMPETITION
The topic is chromatin dynamics.
Use artwork of any kind – original, historical or AI-generated. (Please include any relevant sources or copyright information).
Please come up with something that is ready to be incorporated in a poster. If your submission is chosen you should be able to download a high resolution image. Costs incurred by copyright or usage fees can in principle be covered by the SFB, but please check with Elizabeth or Peter for approval.
Deadline for submissions is September 30, 2023
A jury from symposium organization committee will decide the winner, to be used and distributed as the 2024 symposium poster motif. The top 10 submissions will be exhibited at the symposium.
We look forward to your submissions! irtg1064@bmc.med.lmu.de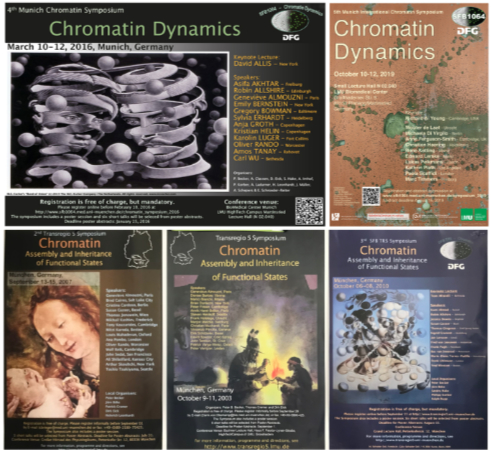 Past symposium posters with motifs from Salvador Dali, MC Escher, Andy Warhol and more ...