interact 2020
For junior researchers, by junior researchers
27.02.2020 – 28.02.2020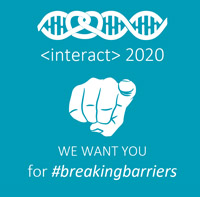 Master – PhD – PostDoc
The SFB 1064 continues its support for the <interact> initiative, and has renewed sponsorship for 2020. Four IRTG members are contributing in the organizing teams: Nikolas Eggers, Anna Kiss, Vanessa Luzak, Rodaria Roussou and Irina Shcherbakova.
<interact 2020> offers:
Keynote speakers from academia and industry
Talks and posters from junior researchers in the Munich arena
Career Fair
Panel discussion
<interact>ive session
When: February 27-28, 2020
Where: Biomedical Center (BMC) Munich, Großhaderner Str. 9, 82152 Planegg-Martinsried
See www.munich-interact.de for program and details.