Year's End IRTG 1064 Get-Together
Discovering new talents at Bavaria Bowling!
30.11.2017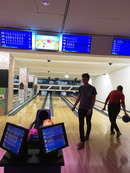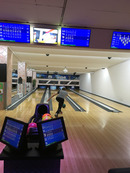 For the second time (first time was in 2014) we made a dinner-and-bowling excursion (under purple lighting!) to duly celebrate the end of the year. Senior and junior members attended - it was a great mix, and a good way to get to know each other outside of the lab.
Many thanks to all those who made the time to participate!
HAPPY HOLIDAYS to those who couldn't make it – see you in the New Year!