Spetses Summer School, August 25-31, 2018
Apply now for IRTG-premium spots
25.08.2018 – 31.08.2018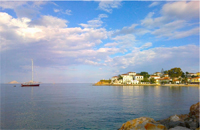 The IRTG 1064 will be sponsoring 10 spots at the Spetses Summer School, August 25-31, 2018, organized by the ChroMe Network.
If you are interested, you can apply by sending me
a short abstract (title max. 25 words; text max. 150 words) describing your research project. Note: all participants will present a poster. Be prepared to give a talk if you are selected as an award-winner – this will be decided on site in Spetses.
a short motivation letter stating why you want to go and why it is good for you at this time in your PhD project
whether you have been before
what stage (year) you are into your doctoral project
confirmation that your supervisor/PI is willing to cover the travel costs from Munich-Athens
The IRTG would cover the 450 Euro fee that includes registration, lodging and transfer from Athens to Spetses.
If we have more that 10 applicants, we will use the above information as criteria for selection.
Apply by May 31, 2018. irtg1064@bmc.med.lmu.de
If you are applying for an IRTG premium spot, DO NOT register on the ChroMe website.